E-cards or traditional cards?
How do you like your card?
You just opened your email and there it is just waiting for you to click on OR it came in the post today and there it sits on the counter waiting for you to open.
Which do you prefer? The electronic card or the traditional, rip open the envelope, kind of card?
There are some hilarious e-cards out there.  You've all seen them floating around in hyper space. Maybe your facebook friends post them, or maybe you have been sent one. Take my new blogger friend, Stephanie, who chose to track her day in e-cards in a recent post on her blog The Mom in Black.  I started laughing more than once when I read through the cards she chose from someecards. You need to go and read these.  Too funny!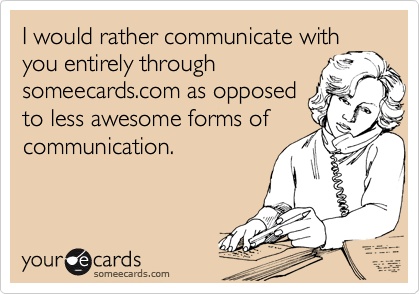 Of course there are many sites that invite you to create your own e-greeting cards. They allow for customization, creativity, simplicity, music, cool graphics, are eco-friendly and can be done without leaving the comfort of your home or office.  This works especially well when you are late on remembering that special occasion and a card by mail won't make it on time.  No worries, just send an electronic version and call it a day.
Writing in clouds.  
A company that I am very intrigued by 'rite' now is Lettrs.  I think they are on to something.  The concept is very cool.  You can digitally deliver your hand-written letter via a cloud platform. Take a listen.
Lazy or Efficient. You Decide.
I am a die-hard traditional kind of card gal.  In fact, I go as far as to call them 'real cards.'  I don't do e-cards.
I get the whole simplicity of the e-card, I really do, but for me it still smacks of the easy way out with a sprinkling of less than personal. Really, you couldn't have sat down and just penned me a few words?  I don't care that it is late.   Better late than never  as they say.
What really gets my ticker going is when I am on the receiving end of a mass email card.  Seriously.  And then, someone chooses to 'reply all.'    I have been known to rant about such misplaced etiquette.
Yes, I realize that my position may be one of controversy.  But I just had to get that out there.   I needed to be authentic you know.  Real, with you, the reader.
So, to all those I might have offended, please post a comment.  Perhaps you can convince me that I am misguided on this one.
What is better?  E-cards or traditional?   Come on, if I can go out on a limb, surely you can too.
P.S. If you made it to the end of this post, I not only thank you, but congratulate you!  It would seem I had much to say on this topic.   🙂