Ruby Red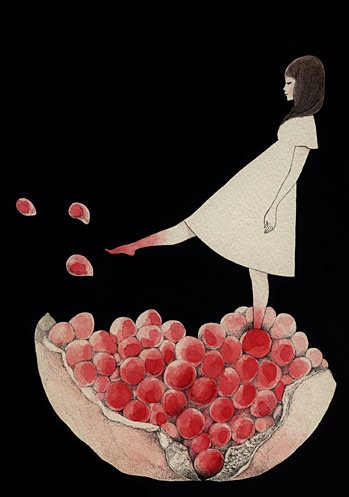 Hooked
This is the time of year when these red jewels show up at the local grocery store. Pomegranates are one of my favorite fruits.
My memory of discovering the pomegranate is very clear.
I was about 10 years old and I wasn't sure I wanted to eat it. After all, they were seeds. But, once I did, I was hooked. That vibrant red juice can stain the counter, your clothes and, in the case of this print by Japanese artist  Mirdori Yamada, your feet.
There is something about this  picture that I love.  Perhaps it is the way the young girl is so effortlessly kicking away the loose seeds.  The fact that she is standing in a pomegranate is pretty cool in itself.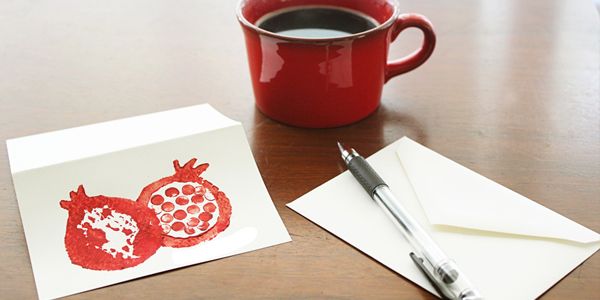 Stamp This
I like to learn something new every day.  My goal is  to be intentional about this.
What I learned today is that during the Jewish holiday of Rosh Hashanah pomegranates take on a special significance.  They are eaten as part of a new fruit blessing for the Jewish New Year.   Each pomegranate has about 613 seeds which corresponds to the 613 commandments in the Torah. Eating the fruit during Rosh Hashanah solidifies the commitment to carrying out these commandments.
You can learn  how to make these cards  that Brenda Ponnay over at AlphaMom created using a potato and a pencil top eraser.  Stamp away!
What one thing did you learn today?  Please share and I can learn it too!
p.s.  If you want to avoid the mess when peeling the pomegranate do it when the whole fruit is submerged in water in a large bowl.   Or, you can try this technique shown here.
Hanging out with some friends here :