What was in my mailbox this week. No.8
My mailbox has been overflowing lately! I'm so grateful…and behind on my letter writing. If you are just getting started with this whole snail mail thing and haven't received any mail yet, here are a few tips to get that mailbox overflowing.
I have 'a thing' for typewriters so this card above (placed on one of my typewriters) had me at 'hello.' Sent by a dear friend, someone that I haven't seen in a long time, it was especially lovely.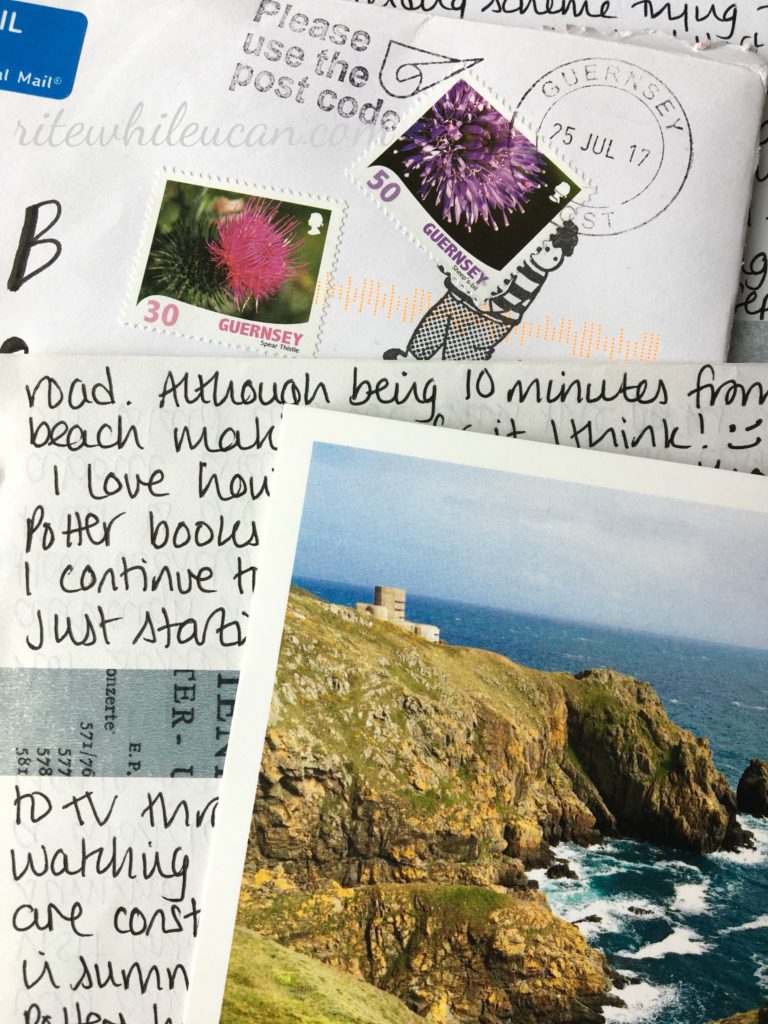 Letter writing is contagious
Jessica is one of the most prolific letter writers I correspond with and I can barely keep up. You can see more of her wonderful mail in past installments of what was in my mailbox this week.
You will be interested to know she has just recently started the Guernsey Letter Writers Society. The charm of letter writing has a way of being contagious, doesn't it?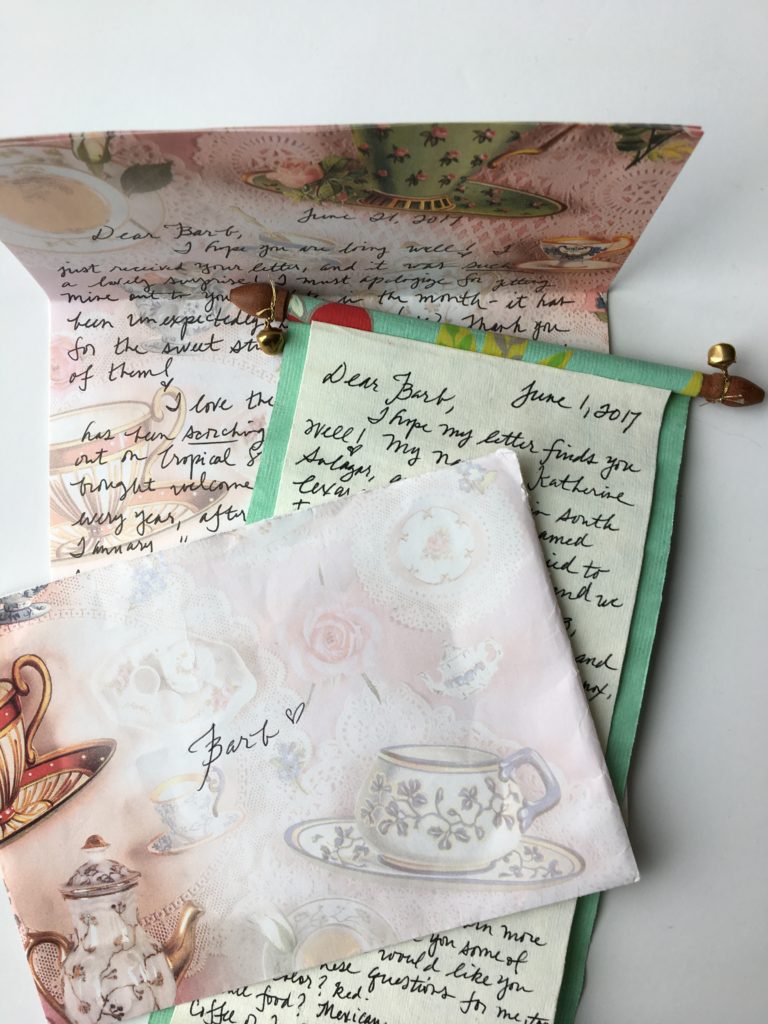 lost return address
So for those of you who notice the 'details' you will see that this sweet letter above wasn't written in October. I allow myself wiggle room on the dates of the mail I feature in what was in my mailbox this week series.  I only share after I have written the sender back. Except this time.
I have to confess, I've lost the return address for Katherine who wrote me way back in June. I've been scrounging every nook and cranny to find it and no luck. I feel so bad. Katherine actually made me a 'scroll' type letter (notice the green paper) that I was to open first. So creative.I just loved it.
So Katherine, if you are reading this, I humbly apologize and would you please be in touch with your return address?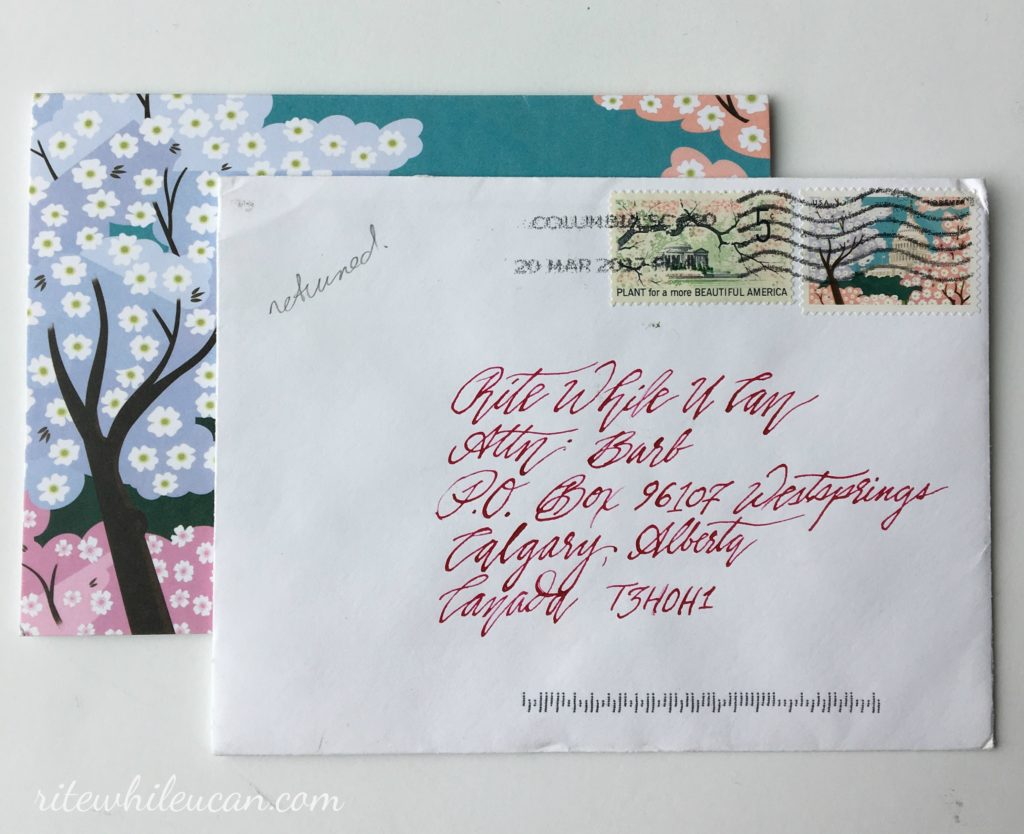 Matching stamps and stationery
I went a little gaga over this beautiful blossom stationery and matching stamps that Simone sent me. And what beautiful ink and handwriting!  When I found this in my mailbox it was almost too pretty to open. Almost.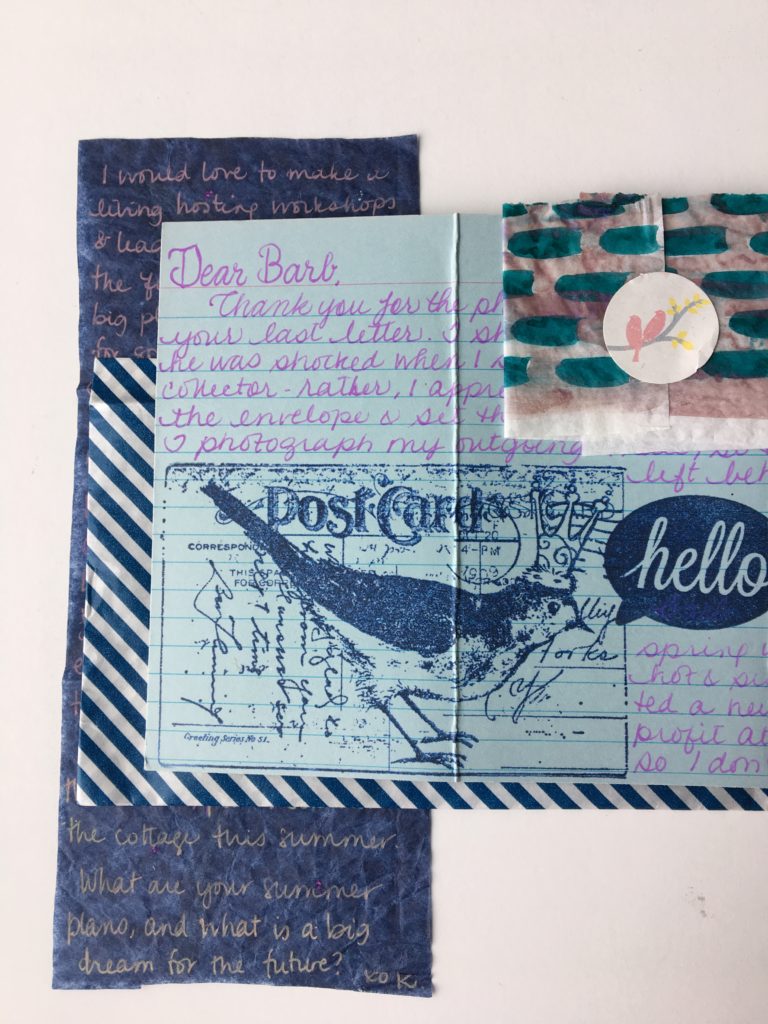 Mail art
It will come as no surprise to learn that the sender of this stunning piece(s) of mail is a mixed media visual artist. Her mail above included pieces on tissue paper with artwork on both sides, a card stock postcard with beautiful ink stamp images, folded and wrapped in a tissue paper band. So beautiful.
Katherine calls Montreal home and we have exchanged mail a couple of times now and I look forward to continuing our correspondence. You can find her at PlanCultivateCreate where you are sure to be inspired by her creativity and art.
So, clearly I need your help. How do you keep track of your incoming mail and return addresses and those letters that you've returned and those that are still pending?