As we approach Remembrance Day (Veterans Day in the USA) on November 11,  I want to introduce you to Elinor Florence, author of a new Canadian wartime novel called Bird's Eye View.  To find out how you can win a copy  of her book continue reading.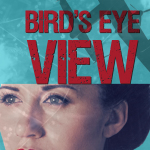 Spying from the sky
Bird's Eye View tells the story of a young woman from the prairies whose home town becomes an air training base. Fired with patriotism, she joins the air force herself – one of 50,000 Canadian women who enlisted to support the fighting men. Rose Jolliffe travels overseas and becomes an interpreter of aerial photographs, spying on the enemy from the sky, searching out bomb targets on the continent. Homesick and lonely, Rose keeps in touch with the home front through frequent letters from her mother and her best friend June, who is also the postmaster's daughter in the fictional town of Touchwood, Saskatchewan. Since letters play a really important role in this novel, I asked Elinor to explain how she researched this aspect of daily life during World War Two, and here's what she told me.
By Elinor Florence
Grandpa's post office
First of all, I love reading old letters. As part of my research, I read hundreds of letters written by my family members during World War Two. (Fortunately, my mother is a hoarder.) They are beautiful to handle, too – written on heavy paper with flowing ink. And people had such good handwriting back then! Secondly, the post office was more than a place where we got our mail, it was almost a second home. I grew up on a farm near Battleford, Saskatchewan, where my mother's father Charles Light served as postmaster.Every time we went to Battleford, we would visit "grandpa's post office" where we were allowed to come behind the counter, play with the stamp hammer, and inhale the wonderful smells of paper and ink. If we heard someone come into the lobby and unlock their mailbox, we would (if Grandpa's back was turned) make faces at them through the open back of the mailbox and scare them!Grandpa's post office was actually great-grandpa's post office first, although he died when I was small. My great-grandfather Frederick Light was the postmaster until my grandfather came home from the trenches of France in 1919. Charles had been away for five years serving with Lord Strathcona's Horse and wounded twice. He was very happy to settle into a regular job. And after Charles married and had five children, his wife Vera and all five children, including my mother June, worked in the post office, sorting mail – the third generation of Lights to work in the post office. Here's a photo of three generations standing: Charles, June, and Frederick. I'm the little girl, and I see by the licence plate on the Pontiac that this was taken in 1954.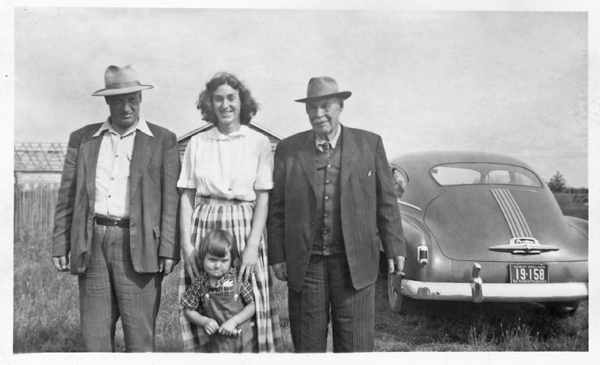 Battleford is a small town, although it enjoys the distinction of being the former capital of the Northwest Territories (which at the time included what is now Alberta, Saskatchewan, Nunavut, the NWT, northern Ontario and northern Quebec!). During its heyday, before the railway was installed three miles away on the other side of the Saskatchewan River and North Battleford began to grow, some beautiful public buildings were constructed, including the red brick post office which was built in 1911.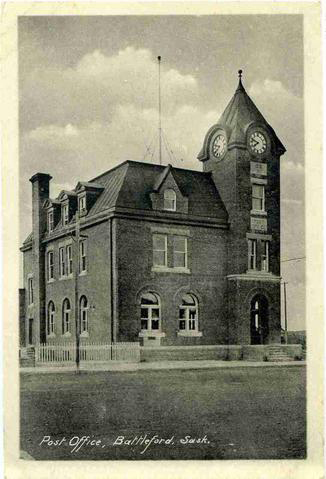 Mail was a lifeline to the home front
During the 1920s and 1930s, my grandfather wasn't rich, but he had a steady government income which saw his family through the Depression.When war broke out, suddenly the volume of mail increased exponentially as the boys left for their training in other parts of Canada, and then for overseas.Mail was a lifeline to the home front. My mother June recalls writing letters until her hand cramped, six or seven every week, some of them to boys she scarcely knew. And people sent hundreds of parcels overseas, containing hand-knitted socks and scarves, soap, dried fruit and candy. They were wrapped in heavy cotton fabric andsewed shut with needle and thread. The addresses were inked on the surface of the cloth with a fountain pen.My grandfather's income actually rose during the war, because he received acommission on stamps. He also paid his assistant's wages out of his own salary, so it was to the benefit of the whole family when the children were old enough to become unpaid helpers.My mother June Light, who is 90 years old and lives near me in Invermere, B.C., recalls:
"Dad's brother, my uncle Fred Light, owned the Lighthouse Service Station in Battleford across the street from the post office. He had the contract to pick up the mail bags from the train station in North Battleford, across the river, every evening at 8:50 p.m. Dad would wait until the mail arrived and have it all stamped and sorted before he went home at night, so people would have it first thing in the morning. He would be back in the post office the next morning at 7 a.m., ready to open the doors to the public at 8 a.m. It was a long day, but he always took a two-hour lunch break and had a nap."
 Letters help us remember
The importance of mail wasn't lost on the First War veteran. He knew all the families in town who had boys overseas. If he saw that one of them had sent a letter, he would deliver it himself on his way home from work. Letters were stamped with the time and date using a steel hammer. "My Dad could stamp letters faster than anyone. We were always trying to keep up with him, and once in a while we would stamp our thumbs. I even lost a thumbnail once!" One of the benefits of being the postmaster is that you were the first person to receive your own mail. Once my grandfather's friend wrote him a letter that had nothing on the envelope but a drawing of a light bulb! When my oldest uncle Alan Light was away training to become an RCAF pilot in such far-flung places as Brandon and Regina, there was a constant flow of mail between him and his family.  Here's an envelope showing my mother's juvenile handwriting, bearing the Battleford stamp and the date: August 8, 1941. If you look closely, you can see Alan's writing as well. He wrote "ans" on the top left to remind himself that the letter had been answered – an indication of how many letters he must have received! These letters are especially poignant because Alan never got overseas. He was killed in a training accident in 1942.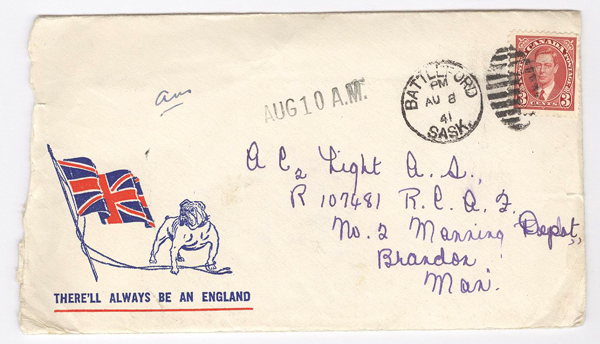 Mail box number one
Another benefit for the postmaster was having first choice of mailboxes. For decades, the Light family mailbox was Number One. And after my grandfather died, the mailbox was inherited by my mother's eldest sister Peggy. My Aunt Peggy's address was Number One, Battleford, Saskatchewan until the day she died in 2001. Here's a photo of the post office today. It is the second-oldest post office in Canada still in use (the oldest is in Toronto). But to me, it will always be "Grandpa's Post Office."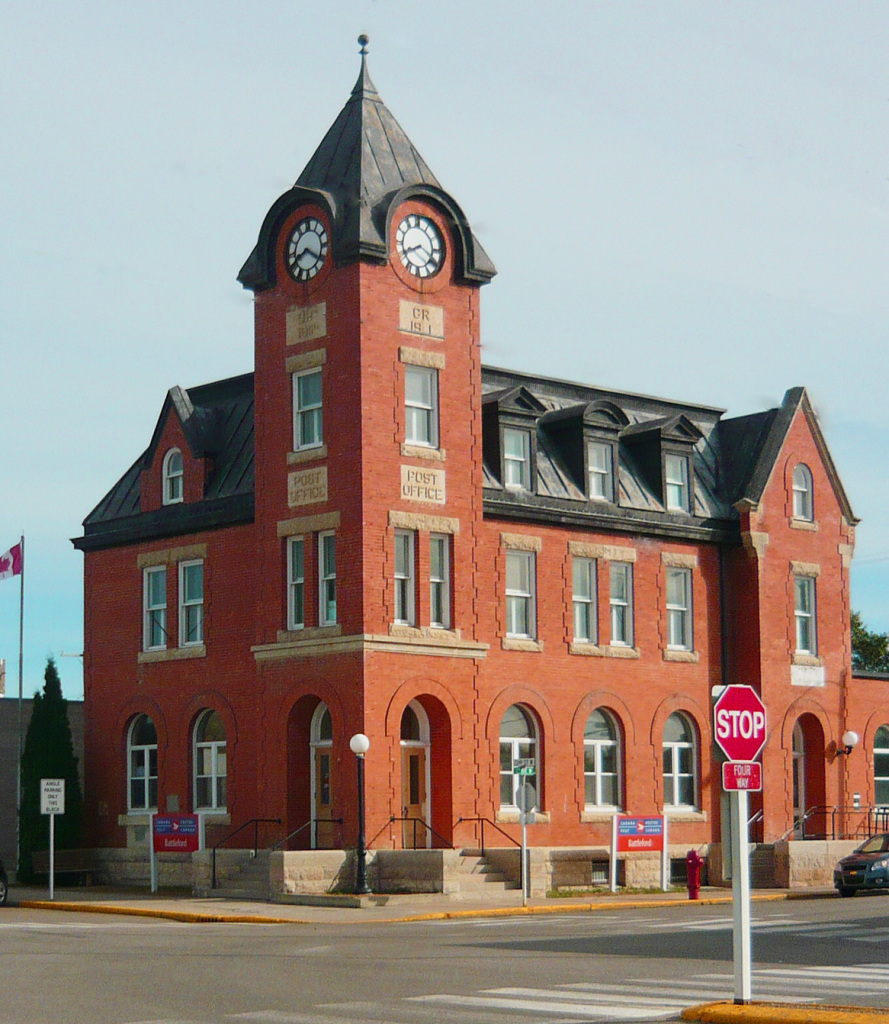 I worked hard on the letters that are sprinkled throughout the book, trying to capture the atmosphere of the times. Through the written word, my characters communicate their joys and sorrows, their sense of humour, their daily activities and their personalities. And reading between the lines, it's easy to see the love, the fear and the yearning that people felt for each other during those terrible years.
To read an excerpt of Elinor's book, which she published this week on her own Wartime Wednesdays blog, click here: Bird's Eye View.
Elinor will also be providing a free signed copy of her book to one of you! Please leave a comment and your name will be entered into a draw.
If you want to purchase Elinor's book and have it signed in her own lovely handwriting, you may visit her on her book tour.  I will be going to meet Elinor at Chapters Chinook, 5455 Macleod Trail, Calgary on November 11th between 12:00pm-4:00pm. Perhaps I will see you there?