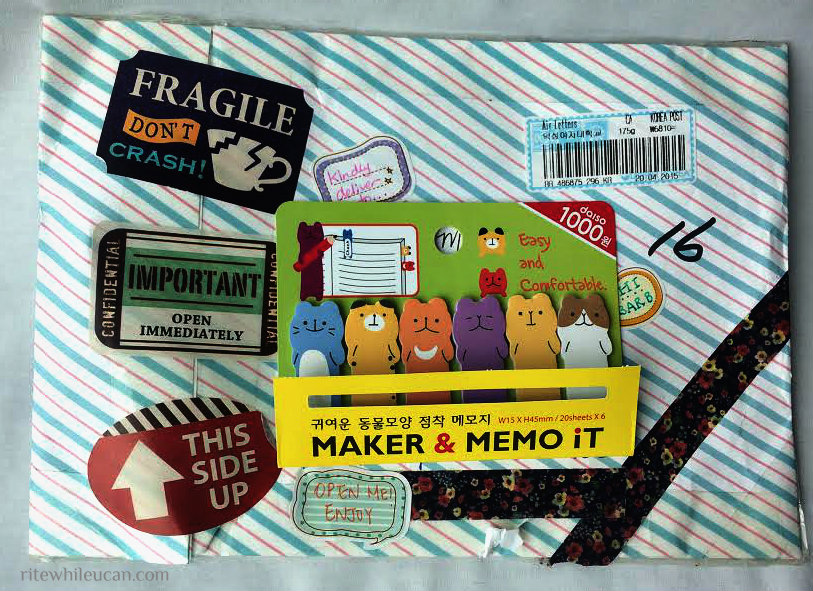 Snail Mail exchange
You may remember me sharing about a snail mail exchange last month. Well, it was so fun I signed up again.
This is the beauty of the Lovely Letters exchange. You just sign up when you want to.  This time I was paired with fellow blogger and Canadian Stephanie.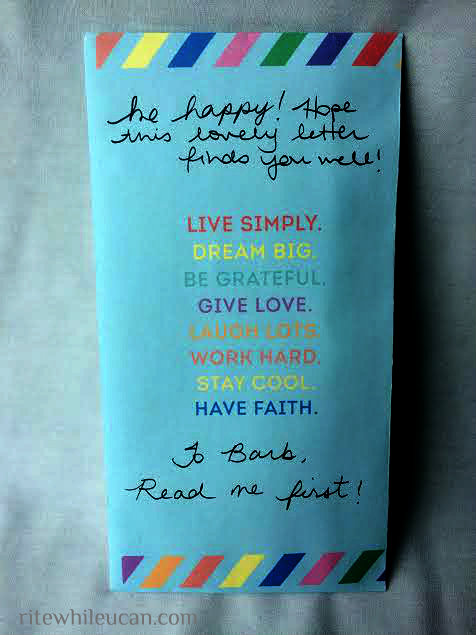 Stationery from abroad has such personality
Stephanie,although from Toronto, has been living in Korea for some time now and has access to the most amazing, different stationery than we can get here. Just look at all these lovelies she sent me.
Did you notice the 'memo-it' paper tabs?  So cool.  Can you imagine those in a classroom? Perfect for all sorts of fun, inspiring work.  I should share them with my teacher friends. Really, I should…
"Make today the best day of your life"
I actually received a lovely thank-you letter from Stephanie before her actual package arrived. But good things come to those who wait, and once it did arrive, I made sure to make some time just to savor opening her package; no distractions, no commitments.
There were a set of postcards in my package (one shown above) that I just love. The inspiring quotes and graphic, almost animated, drawings are  so different, they charmed me right away.
There are many snail mail exchanges to choose from
And these markers! I may have to stash these far away from those in the house that seem to steal/borrow my pens as these are just too nice to end up at the bottom of a backpack or under the couch cushions.
A big thank you to Stephanie for her thoughtful choices and lovely letter. Do pay her a visit over at Living Free where she gets as excited about snail mail as I do (I know, hard to believe).
Should you want to give the whole 'pen-pal' thing a go, I've compiled an ever evolving list with many snail mail exchanges to choose from.
How do you like to open your mail? Rip it on the way back from the mailbox or perhaps pour a cup of coffee first?