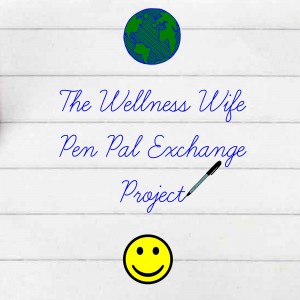 Pen Pals make a come back
I just had to share with you what my new friend Lisa from  The Wellness Wife  has got going on right now.  I'm hoping you might be interested in having your kids, grand-kids, neighborhood kids be part of this Pen Pal exchange program
Why bother getting your kids to be part of a Pen Pal exchange?
Well, there are many reasons, but here are my top 5:
1. To teach them about the wider world, other than just their backyard; global awareness, geography, culture etc.
2. It allows them to make and give something to someone.
3. By writing a letter my son can work on his cursive/printing skills; his personal signature.
4. Gives a much needed break from all things digital and screen related.
5. Provides the potential for a new friend.
You may be surprised to learn there are several other ways to exchange letters and have a pen pal, even if you are a tad bit older….smile.
Click to a recent post I wrote called "Rediscovering the charm of Pen Pals" for more information.
What would prevent you or your kids from participating?  Perhaps together we can make it even better? Let me know your ideas/suggestions.