April is National Letter Writing Month
The notion of putting pen to paper and writing a letter is often a foreign concept in this digital age.  So what better time to go retro and give it a try then during the month of April—National Letter Writing Month.
How to participate:
1.  Write_On  I can't tell you how excited I am about this cool project initiated by some letter loving folks at Egg Press and Hello Lucky Cards to challenge us to write 30 letters in 3o days. There are even free kits consisting of 4 letterpress cards and a pen to get you started (don't wait to sign up as first come first served and those living outside the US are encouraged to contribute a small donation to cover the shipping costs).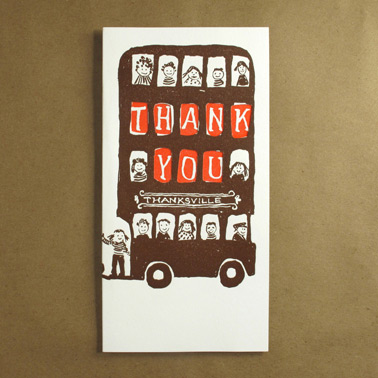 'thank you bus' by Egg Press
2. Find yourself a penpal.  Perhaps you are thinking there is just way too much dust on this old school concept of exchanging mail with a person you've never met. You could be right. However, I suppose only a true conclusion could be made once you have given it a try.  Some of my favorite mail projects are focused on others and bringing some cheer to their day, like Postcard Happiness or something I've shared before on the blog Cards on Wheels.
3. Start your own Neighborhood Postcard Project.  This community building, stereotype smashing, project started in San Francisco and has grown organically. A true example of where putting pen to paper can make a tangible difference.
What will you do or who will you write this National Letter Writing Month?
P.S.  If you need some inspiration on what you should write about you will certainly want to read these reasons to write.