Go green with your mail
Have you stopped laughing yet? Yup,  this is just my latest crazy idea on posting a letter.  It is meant to bring a smile, a chuckle or full on laugh so feel free.
And,  the best thing is,  you can't get any more "green" than this. Some of you, or your friends, have rightly pointed out that writing letters is not so friendly to the environment. Point well spoken.
Nothing like a wee challenge to make one come up with a creative solution.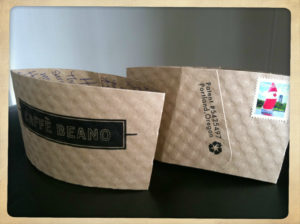 Mail your trash
If truth be told  it was a babysitter when I was about 10 years old that showed me the versatility of the MacDonald's™ apple pie container.
The older container design actually worked better as the window (to let the heat escape) was bigger and on the front.  Today's design doesn't fold as well, but when you slap on a blank label it does the trick.
For all of these ideas you just need a  glue stick,  scissors (check here for  Canada Post dimension requirements) and of course, don't forget the stamp!
Do you have a stash of old magazines, wrapping paper,  newspapers?   Put them to good use and make your own envelopes.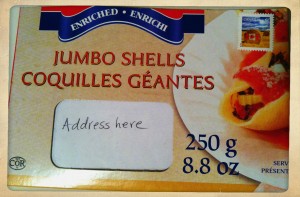 Three more ideas:
1.mail an Archie comic book in a Ziploc  (note: this is one I have yet to try so let me know if you have success)
2.use a book jacket from a hardcover
3.cut up an old map. you can mark your location as the sender and the route it will take to reach the recipient.
P.S.   Just so you know I did eat the apple pie, but not at the same time as I had the pasta and tea.  Ha!